Before you choose a learning program for your students, it's always a good idea to look into who made that learning program and what their credentials are.
At Bright Thinker, you can rest assured that the curriculums we offer was created by a team of passionate individuals. We offer years of experience and formal education as teachers and developers of curriculum, along with a passion for providing young people with the opportunity to learn in a way that engages and challenges them.
We are here to help determine and support your needs to help in your schools, homes, or anywhere your students may need to learn.
An EdTech career that spans more than 25 years has allowed Lonnie to witness the transition of a classroom with a single computer sitting idle in the back, to entire districts being one-to-one. He is excited to lead a skillful team of educational professionals who are dynamic, forward-thinking eLearning advocates. Lonnie and the BrightThinker team seeks to offer highly responsive, cutting-edge solutions to the schools, students and staff they serve.  
Bright Life
Lonnie is married to his highschool girlfriend. They have two adult sons. She, along with their sons work in various areas of public and private education. 
Interests
He is a self-confessed rabid fan of Arsenal FC and the English Premier League. 
"Go Gunners!"
Terri is an educational professional who is responsible for overseeing the development and implementation of courses and materials. She manages a team of curriculum developers and instructional designers. It is her responsibility to evaluate the effectiveness of the existing curriculum and make necessary changes and updates to ensure that the curriculum remains relevant and up-to-date.
Terri is passionate about education and is committed to creating a curriculum that meets the needs of learners and prepares them for a successful path to adulthood. She believes that education is a powerful tool for positive change, and is dedicated to ensuring that the curriculum she oversees helps students reach their full potential.
Bright Life
Terri has been working in the curriculum design process and overseeing the development of K-12 courses for 22 years. She has been married to the same wonderful husband for 24 years and counting.
Interests
Reading, spending time with family, hiking, being outdoors, and my job is my hobby, love it!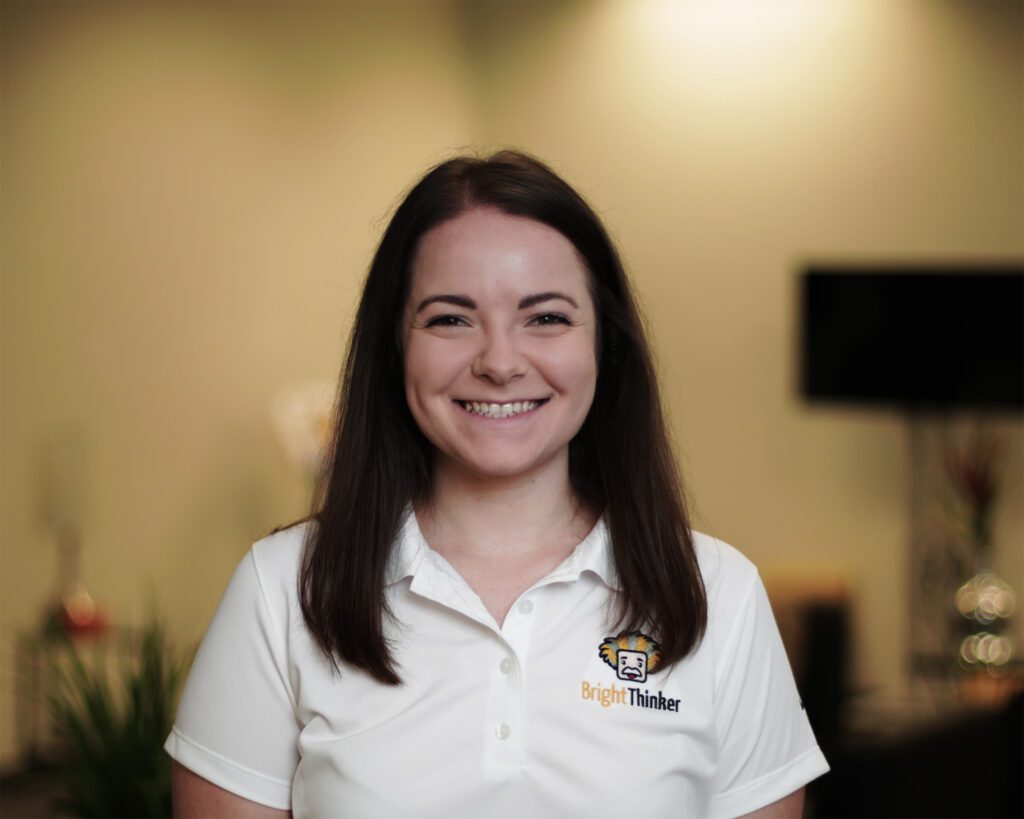 Throughout the past decade, Megan has acquired various fundamental skills to provide an exceptional experience for partnering schools. With her previous background in customer service, management, and education, Megan has equipped herself with the knowledge to build relationships with educators. Her passion for education bloomed when a volunteer opportunity expanded her knowledge and understanding of education across the world. She has been a part of the Bright Thinker Professional Development Team since 2020. Bright Thinker is where she has found her calling to ensure every student is supported by providing teachers with essential tools and resources.
Bright Life
Megan enjoyed her time teaching English to refugee students in another country. Her passions include: meeting new people, trying different cultures' food, and traveling to new places!
Interests
Hiking, traveling, rock climbing, expanding knowledge of all cultures, and spending time with her husband, family, friends, and her corgi (Bean).
Sofia's dedication to helping others succeed has become a significant factor in ensuring customer satisfaction. With her previous experience in customer service, marketing, sales, and non-profit work, Sofia learned invaluable skills that became the foundation of her knowledge base. Sofia is currently pursuing a BBA degree at Texas A&M University – Commerce to further her skills and expertise. Being a part of the education industry has inevitably sparked new goals and aspirations for Sofia's future at Bright Thinker. One of her biggest motivators is having the ability to positively impact students and educators across the nation.
Brightlife
Sofia loves being outdoors and spending time with family, friends, and her two pups. Her dream is to travel the world and experience all that life has to offer.
Interests
Traveling, soccer, rock climbing, art, cooking, and trying new foods
As an e-Learning developer manager, Robyn has spent the last decade creating and managing online learning solutions. Robyn began her career as an e-Learning developer, creating engaging and interactive online courses. Over time, she moved into a management role, overseeing a team of developers, designers, and subject matter experts to create effective eLearning solutions.
Robyn believes in the power of e-Learning to transform how people learn and grow, and is always exploring new technologies and approaches to keep our solutions ahead of the curve. She is constantly looking for ways to create impactful and engaging learning experiences.
In addition to her work in e-Learning development, she is passionate about the role that technology can play in supporting education, and is dedicated to using her skills and expertise to help teachers and students succeed in a digital age.
Bright Life
Robyn has two boys that both play soccer and keep her busy. She loves watching them play the sport they both love!
Interests
Volleyball, camping, spending time with family, cooking, and going to see any live sporting events
After a Decade in the Classroom and twenty years on the field/mat, Coach is now bringing his educational and coaching acumen to Students and Teachers on a whole other level! Coach considers himself the original "Burnt Out Educator!"
Joe now travels the country educating Teachers on how to use Ed-Tech to have a Work/ Life Balance!
The bottom line with Coach is this…. We do not sell you anything!
Coach is always an Educator FIRST!
We provide you Solutions to help students succeed and for teachers to stay in the classroom!
Bright Life
Started his teaching career at the Legendary Eastside High from the movie "Lean On Me" with Morgan Freeman.
Interests
Sports, Poker, and traveling.
Ashley's background as a school teacher, coach, and school principal brings a different set of skills to Bright Thinker; skills that provide her the knowledge and relationship with schools because she truly understands their needs. Ashley learned very early on in her education journey that working with students and teachers to ensure success for all was her true passion. After 4 years as a school principal, she decided helping others via curriculum choices was where she really thrived. Ashley has a bachelor's degree in Education, a Masters in Education Leadership, and her Superintendent Certification. Her utmost goal is to help teachers and schools provide the best education for their students while also balancing their time and craft as educators.
Bright Life
Ashley has been married to her husband for 7 years and they have an almost 2yr old daughter! She enjoys spending time with her husband and toddler.
Interests
Soccer, traveling, running marathons, and shopping.
James has nine plus years of experience in education . He was an elementary teacher, as well as a 6-12 Principal in Dallas, Texas.  He has a Bachelors in Counseling, a Master in Educational Leadership from UT Arlington, and is working on a Doctorate in Educational leadership at the University of the Cumberlands. James joined Bright Thinker to continue to make an impact in students and educators' lives across the country. 
Bright Life
James is married with 3 beautiful kids. He enjoys hanging out with his family and friends. He also enjoys traveling and watching pretty much all sports.
Interests
Family, friends, All things sports, cooking, and traveling.
Throughout Ross's life, he has learned many useful skills for many diverse workplace experiences. He has a background in both the Corporate World and in the Nonprofit Sector, which provides for many unique opportunities at Bright Thinker. He has a passion for Education and Learning, and is driven to see that others succeed and grow in their daily lives. Ross's background includes management, leadership, and administration, which he hopes to use in furthering the future of Bright Thinker.
Bright Life
Ross enjoys spending time with his family and friends. He enjoys reading books on Art, History, and Science Fiction. He looks forward to making the world a better place each and every day.
Interests
History, Art, Reading, Gardening and Spending time at the Beach.
Throughout Korren's life, she has learned the necessary skills required for being a team player. She is driven to see others succeed and grow in their fields and personal lives. Korren's background in counseling, administration, and office management has led her to Bright Thinker, where she hopes to continue to help change lives through education. 
Bright Life
Korren has given the last ten years to help children learn and better their life circumstances. She loves spending time with her family and their dog.
Interests
Reading, Drawing, Calligraphy, Singing, and Dance.
Amanda has experience in management and customer service with a passion for learning and education.  As a mother of three she has always kept education as a priority.
Bright Life
She has been married to her husband for over 13 years and have three wonderful children that keep her busy with various sports and activities.
Interests
Reading and collecting books, baking, traveling, movie, spending time with my family.
After 18 years in the Finance and Accounting Department of ResponsiveEd Texas, Marlene retired from her position as Accounts Payable Manager. In February of 2022 she moved to a part time position under the ResponsiveEd umbrella and is now responsible for much of the billing for Bright Thinker curriculum.  With a love for both people and numbers, Marlene has enjoyed guiding coworkers through the unpleasant but necessary maze of accounting.  This passion has also extended beyond the workplace into a ministry of teaching and helping groups and individuals with personal finance and budgeting.
Bright Life
Marlene has dabbled in murder mystery dinner theater playing roles like a librarian named Rita Book and a preacher's wife named Helen Brimstone.
Interests
Reading, acting, playing with spreadsheets, enjoying time with family including three beautiful grandchildren, and playing with her adorable little dog Taffy.
Want to join our Bright Thinker team?